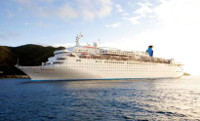 Marella Dream
Overview
Plenty of space and a brilliant selection of facilities - that's what you can expect on Marella Dream. The restaurants, lounges and bars have been treated to a stylish makeover. As for the entertainment, our plush show lounge sets the scene for glam West End-style shows and UK comedy acts. Elsewhere, there's plenty of room for live music and daytime games for the whole family.
Dining
Lido Restaurant
There's a quiet bustle to this help-yourself eatery, which keeps meals coming from late morning 'til well in to the night. The central food station has everything from full cooked breakfasts to salads, meats, breads, and cheeses. Plus, there's pizza, fries and soups on the side. Themed nights throughout the week bring the likes of Italian or Mexican flavours in to the limelight.
Terrace Grill
The Terrace Grill is an open-air eatery that's open for most of the day. In the mornings and through to the afternoon, you can expect burgers, omelettes, hot dogs, pizza and a selection of cold cuts. In the evenings, this place transforms into the Hotstone Grill restaurant, where diners cook their own steaks exactly to their liking, using sizzling-hot slabs of stone.
Mistral's Restaurant
When it comes to extravagant dining, this place is a real gem. Pick the likes of lamb rack from the a la carte menu, and enjoy attentive waiter service in contemporary surroundings. Just so you know, a cover charge applies and you'll need to make a reservation.
Sirens Restaurant
Set on the top deck next to the main pool, this self-serve restaurant has tables for 2 and crescent moon-shaped booths for the whole family. It offers buffet breakfasts and lunches. And don't forget to pop in for afternoon tea when naughty-but-nice treats include mozzarella and cucumber mini sandwiches and oven-warm home-made scones.
Orion Restaurant
Waiter service and bright and spacious surroundings make the Orion Restaurant a relaxing place for breakfast, lunch and multi-course dinners. It's got an open-seating policy, so you're free to dine where and when you like. Simply pick your spot and order the likes of just-the-way-you-want-them breakfast eggs or slow roast lamb from the evening menu.
Kora La Restaurant
Thomson Dream's newest a la carte restaurant offers up pan-Asian cuisine with suitably themed interiors. Just so you know, a cover charge applies.
Activities
Kids' Club
The onboard Kids' Club is open to three to 11-year-olds. It's free, with arts and crafts, movie nights, pyjama parties, and mocktail-making sessions organised in two-hour chunks.
Pure Portrait Studio
Head to the onboard photo studio for a session with a professional portrait artist. For a shoot that's a little less ordinary, try the Seascape Experience. With this one, you'll be snapped out on deck with the ship and horizon providing the backdrop.
Broad Street Shops
The parade of shops has daily promotions on jewellery, fashion and cosmetics, with up to 50% savings on selected lines.
Browsers' Corner
Dark-wood panelling and bookcases set the scene here. You can help yourself to daily sudoku challenges, and pick out paperbacks from the shelves. Plus, there's a good hoard of jigsaws and board games to borrow. A bank of chargeable PCs and Wi-Fi means you can email and Facebook loved ones back home.
Destination Services
This is where you'll find a dedicated team of experts in exploring, who can help you to find the best excursions to suit you, and advise on things you can do under your own steam when the ship's in port.
The Coffee Port
This cosy coffee shop is located in Marella Dream's Explorers' Lounge. By day, it's the place to grab cappuccinos, cake and ice-cream. At night, meanwhile, it turns into a cocktail corner.
The Navigate App
Ever wanted to book a slot at your favourite onboard restaurant without leaving your cabin or sunbed? Well, there's an app for that. Navigate is your one-stop-shop for everything cruise. You can book excursions, spa treatments and meals, or check out opening times, your reservations and your most up-to-date bill - all with the click of a button on your phone, tablet or laptop. The best bit? It's free to use. There's no need to connect to the ship's network - just switch on your Wi-Fi, open your browser, type in navigate.tui and it'll appear as your homepage.
Photo Gallery
Head to the Photo Gallery to view and purchase photos from your cruise.
Room Service
You'll find a room service menu in the Life Onboard magazine in your cabin. You can order 24 hours a day and the bill will be added to your onboard account.
In-cabin Laundry Service
Just fill out the slip provided and pop your laundry in to the bag. Your cabin steward will take care of the rest. Just so you know, a charge applies.
Reception
A team of friendly staff man the reception 24/7 to answer your queries and sort out any niggles, no matter how small.
Card Room
The wood-panelled card room is stocked with playing cards and board games like Trivial Pursuit and Scrabble. It's light and bright, with a dozen or so tables and chairs with chequer-board backs.
Spa & Fitness
Oceans Spa and Beauty Salon
Our line-up of treatments will have you looking and feeling like you're on top of the world. Treat yourself to a facial or a new hairdo for the cocktail reception. And don't forget to check out daily offers like Indian muscle-melting massages and mineral mud wraps.
Oceans Gym
The ship's air-conditioned gym is equipped with free weights, exercise machines, and space for aerobics and yoga workouts.
Main Pool
The pool takes centre stage on the sun deck. It's a lively spot with plenty of loungers around it and a full roster of daytime entertainment.
Lido Pool
Head to the rear of deck 9 for a relaxed pool scene. It's one for all the family and comes with fantastic sea views.
Kids' pool
The kids' pool is next to the Lido pool.
Saunas
His 'n' hers saunas lead off from the well-equipped gym.
The Sun Lounge
This sunbathing area has a beach club-style feel, with comfy daybeds as standard and a bar.
Medical Centre
Don't suffer in silence. The ship's doctor and a team of nurses are on hand from 8-10am and 5-6.30pm. For out-of-hours emergencies, dial 999.
Whirlpools
There are 2 whirlpools next to the pool on deck 11.
Bars and Lounges
Medusa Bar: This window-lined bar is the best spot for watching the world go by.
Delo Bar: Drinks are served shaken and stirred in the ship's classy cocktail bar
Ocean Bar: Set in the centre of the ship, this is the ideal place to meet your friends for pre-dinner tipples
Lido/Pool Bars: For al fresco drinks, head to one of these poolside bars.
Entertainment
Casino
Here, you can try your luck at the slot machines and enjoy a light-hearted flutter at the casino's roulette and blackjack tables.
Tides
Set in the centre of the ship, this is a convenient place to meet friends. Of an evening, the grand piano gets an airing and singer soloists will draw you towards the dance floor.
The Water's Edge
Sip post-dinner drinks. Dance until the early hours. Have a flutter at a roulette table. This spacious lounge allows you to do all of the above, encompassing a bar, a late-night disco, and a casino. It's open throughout the day, too, where you can take in the ocean views from a stylish outdoor terrace.
Pool Bar
Right at the top of the ship, the bar staff here mix and shake cocktails like a pro. It's then over to you to relax by the pool, drink in hand, and enjoy the sea views.
Medusa Lounge & Bar
This is the ship's biggest lounge. Floor-to-ceiling windows keep it bright and airy, making it a lovely place to watch the world go by. Live bands and spotlight cabaret take to the stage here, and there's a dance floor. Plus, there are plenty of seats grouped around small tables to get stuck in to the likes of bingo and game shows. For drinks, there's a well-stocked bar in the corner.
Explorer's Lounge
Huge table lamps and big solid tables set the scene here. By day, it's a low-lit spot for relaxing over cappuccinos and quiet chitchat. It's also one of the ship's Wi-Fi zones. By night, the tempo is upped with a soundtrack of smooth tunes, courtesy of our resident pianist.
Broadway Show Lounge
This 2-storey show lounge sparks in to life every evening with musical entertainment and comedy from UK guest acts. It's a large space, dressed in shades of crimson and walnut and subtly lit with ceiling spotlights and pumpkin-shaped table lamps. Comfy bucket chairs, semi-circular sofas and just-for-2 seats give it top marks for cosiness. There are 2 shows every night - early and late - that cover off anything from West End-style musicals to classics from the Eighties. You can expect high kicks, dry ice, and plenty of costume changes.
Tonnage: 54,763 GRT
Length: 243 m
Beam (width): 30 m
Speed: 19 knots
Decks: 12
Lifts: 7
Cabins: 757
Cruise passengers: 1533
Crew and staff: 600
Electrical current: 110v/220v
Registry: Malta
Please select the deck plan you will like to see below
Deck 12

Vendor
TUI Marella Cruises - UK (Ocean)
General
From glistening glaciers to tropical shores, there are so many places to explore with Marella Cruises. We sail to over 120 destinations - there's even the option of stepping straight onboard our cruises from one of our UK homeports. Whether it's modern, All Inclusive cruise holidays you're interested in, or intimate and cosy, we've got the ship to suit. We're always adding to our fleet, so you can expect state-of-the-art facilities like climbing walls and cinemas, along with cruise classics like first-class entertainment and sophisticated dining. And it gets even better. Unlike most cruise lines, we include tipping and service charges in our prices, so you don't have to worry about paying extra. We like to keep things nice and flexible, too. Book a Cruise & Stay holiday, for instance - and your cruise package will include a hotel stay. Take a look around our website to find out more.
Questions? Contact Cruises-N-More today!
We are happy to provide a toll free phone number into our office from locations within the USA and Canada. Additionally, we have toll free numbers for the convenience of those residents of Australia and the United Kingdom.
USA + Canada

Speak to a travel Specialist 800.733.2048 (toll free) Fax: 407.771.0077

Australia

Speak to a travel Specialist 800.076.002 (toll free) Fax: 407.771.0077

United Kingdom

Speak to a travel Specialist 0.808.189.1292 (toll free) Fax: 407.771.0077