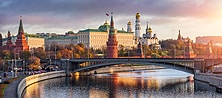 Russia
There are a few different ways to visit Russia by cruise ship. The first and most popular is by cruising the Baltic Sea into St Petersburg, an itinerary that is usually integrated with Scandinavian and Baltic ports. The second is to embark on a cruise that visits the region of Russia to the west of Japan. While there are a small number of Asian itineraries that incorporate a stop in Russia, you will find that this region is most usually frequented on a Bering Sea crossing to/from Alaska. The final way to cruise to Russia is by embarking on an Arctic expedition cruise to the northernmost coast of the country, along all or part of the northeast passage. These itineraries are infrequent, but also once-in-a-lifetime cruise opportunities.
Questions? Contact
Cruises-N-More today!
We are happy to provide a toll free phone number into our office from locations within the USA and Canada. Additionally, we have toll free numbers for the convenience of those residents of Australia and the United Kingdom.
USA + Canada

Speak to a travel Specialist

800.733.2048

(toll free)

Fax: 407.771.0077

Australia

Speak to a travel Specialist

800.076.002

(toll free)

Fax: 407.771.0077

United Kingdom

Speak to a travel Specialist

0.808.189.1292

(toll free)

Fax: 407.771.0077