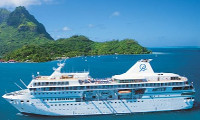 m/s Paul Gauguin
Overview
Designed specifically to glide through the shallow seas of the South Pacific, The Gauguin is the flagship of Paul Gauguin Cruises and a small-ship cruiser's dream. She delivers travelers to intimate ports inaccessible to larger cruise ships, all the while providing an onboard experience that is nothing short of luxurious. Guests aboard our luxury cruises enjoy spacious suites and staterooms (more than 70% with private balconies), an onboard watersports marina, three dining venues, an extensive spa, and five-star service. Life onboard also reflects the beauty and rich cultural heritage of the islands she calls upon, with a warm, friendly feel, informal setting, and even a beloved troupe of Gaugines and Gauguins-local Tahitians who serve as cruise staff, entertainers, and storytellers.
What's Included?
Paul Gauguin Cruises is proud to offer an extraordinary value in luxury cruising, thanks to our all-inclusive pricing. Spend more time enjoying your cruise vacation and less time worrying about every little detail when it's all been taken care of - from gourmet dining to onboard gratuities, and so much more.
When you travel on board The Gauguin, you'll enjoy:
Roundtrip airfare from Los Angeles*
Roundtrip airport/pier transfers*
All shipboard meals, in your choice of venues
Complimentary 24-hour room service
Complimentary beverages, including select wines and spirits, beers, soft drinks, bottled water, and hot beverages served throughout the ship
In-room refrigerator replenished daily with soft drinks, beer, and bottled water
All shipboard entertainment, including our troupe of Polynesian performers and live music in the evenings
Presentations by onboard experts, and select sailings feature guest hosts
Onboard gratuities for room stewards, dining and bar staff
Watersports, including complimentary kayaking and paddleboarding from our marina or destination beaches
Use of our secluded, white-sand beach in Bora Bora with bar service, volleyball, and snorkeling (on select voyages)
A day on our private islet, Motu Mahana, off the coast of Taha'a, featuring snorkeling, watersports, a barbecue, full bar service, and Polynesian hospitality (on select voyages)
*Unless pricing specifically states it is cruise-only.
Watersports
The waters of French Polynesia and the South Pacific offer a world of wonders with translucent lagoons, rainbow-colored coral reefs, and a myriad of tropical fish. A highlight of the Paul Gauguin Cruises' experience is watersports and we offer many opportunities to explore these seas.
Watersports Marina
Our specially designed watersports platform turns the ship into your headquarters for all kinds of adventures on the water. It's as easy as descending to sea level and hopping aboard a windsurfer or paddleboard or launching a kayak. Our watersports equipment is also available when we call upon our private beaches. Plus, if you plan on snorkeling in multiple ports, you're welcome to check out snorkeling gear from the marina for the duration of your cruise. The watersports marina is available in select ports and subject to weather conditions and local restrictions. Swimming from the watersports marina is prohibited.
Fun in the Sun
You'll also have plenty of time to enjoy the South Pacific sunshine on our pool deck. Take a refreshing dip in the water or perhaps grab a beverage from the Pool Bar, a good book, and a deck chair, and settle in for a leisurely afternoon.
SCUBA Diving Excursions
If you've always wanted to try SCUBA diving, your cruise on The Gauguin is the perfect opportunity. Our onboard marina offers diving excursions for all experience levels, and we're the only luxury ship in French Polynesia to offer PADI certification classes for novices. Learn more about our SCUBA program.
Entertainment & Nightlife
After an adventurous or relaxing day, the night is yours to do as you please aboard The Gauguin.
Suggested Evening Attire: Country Club Casual*
Gentlemen: Open-neck shirts and slacks (jacket and tie are optional)
Ladies: Slacks, skirts and blouses
*Note the term Country Club Casual excludes jeans, T-shirts and shorts.
Le Casino
On any evening, you are welcome to try your luck at Le Casino.
Hours of Operation: The Casino is closed in port due to Customs regulations. During days at sea, the gaming tables typically open at 10:00AM. When sailing in the afternoon or evening, tables open at 6:00PM and remain open until play is finished. Hours may vary according to itinerary.
| | |
| --- | --- |
| Game List: | Table Limits*: |
*Table limits are subject to change
Le Grand Salon
Watch spectacular performances featuring the arts of the islands and more in Le Grand Salon.
Capacity: 314 guests
Hours of Operation: Hours vary, according to itinerary and performance times.
La Palette
In this versatile lounge, you can enjoy a morning snack or afternoon tea, attend a honeymoon/anniversary blessing ceremony, and enjoy a nightcap and dance under the stars to the strains of live music.
Capacity: 40 guests (inside); 44 (outside)
Hours of Operation: Continental Breakfast, 6:30AM-11:00AM; Afternoon Tea, 4:00PM-5:00PM; Bar Service,3:00PM-until... Hours may vary, according to itinerary.
Piano Bar
Enjoy a more relaxed environment and live entertainment in the Piano Bar.
Capacity: 43 guests| Hours of Operation: 6:00PM-until...
Bar de Soleil
The sun deck bar is open only for special occasions and upon request for hosting group cocktail parties.
Capacity: Approx. 200 guests
Hours of Operation: As required, weather permitting
Communications
Mobile Phone Connections at Sea
The ship is equipped with an advanced cellular network on board. This network allows guests to make as well as receive calls on personal mobile phones. Mobile phone service will be available for use when the ship is at sea. All charges will be conveniently billed to guests by their cellular provider. Please contact your cellular provider for all details prior to travel.
Internet Access Aboard The Gauguin
Our onboard Internet Cafe is open 24 hours a day and features private terminals where guests have the ability to surf the web, chat online, and access private web-based email accounts. Alternatively, personalized Cruise-mail is available. Internet access is also facilitated by our ship-wide WiFi network. Guests may use personal laptops, iPhones, and all other WiFi-equipped devices while on board and have most software installed on them without restrictions.
Purchasing Internet Access
Instructions on how to create an account and pricing details are available onscreen in the Internet Cafe or on guests laptops once connected to WiFi service. Internet pricing is identical, whether guests use the Internet Cafe terminals, personal laptops, or other wireless devices. All Internet access charges will be billed directly to guests onboard accounts. A one-time $3.95 activation fee applies to each user on his or her first login only. Users will then be presented with a choice of Time Plans, which are transferable between Internet Cafe terminals and personal laptops/wireless devices, can be used anytime throughout the cruise until debarkation, and don't have to be used in a single session. No refund will be awarded for unused minutes. Upgrading a pre-selected pricing option is not available, and plans are subject to change.
Sending Messages to Guests Onboard
To send a message to a guest aboard The Gauguin, you must fill out an online form using the guests full name and stateroom number. Incoming messages are printed and distributed to the guest in paper format. Incoming messages will be billed to the guest.
Dining
During every meal onboard The Gauguin, with every sumptuous bit you sample, and each time our attentive staff fill your glass, you'll begin to realize that dining on the high seas with Paul Gauguin Cruises is truly something special. Embark upon a five-star culinary adventure, designed just for you by some of the world's most talented and award-winning chefs, including Jean-Pierre Vigato, Chef Proprietaire at Paris' Michelin-starred Restaurant Apicius. Wha's more, every one of our onboard dining options is included in your cruise fare. Bon appetit!
La Veranda Dine al fresco or enjoy wraparound ocean views from the dining room of La Veranda, where we offer an ever-changing selection of buffet breakfast and lunch items and a la carte options, many of which are inspired by the destinations we visit. In the evening, La Veranda is transformed to a reservation-only dining venue serving Jean-Pierre Vigato's gourmet cuisine.
L'Etoile Our exquisite main dining room is dressed to impress with perfectly appointed decor, fine table linens, and delicate china. Join us every evening for dinner and sample a tantalizing array of expertly prepared dishes, perfectly paired with complimentary wines.
Le Grill When your day's plans call for a more casual dining experience, join us at Le Grill, located by the pool and offering a buffet breakfast, grilled lunch favorites, salads, and fresh tropical fruit. In the afternoon, stop by for tea with finger sandwiches, fresh fruit, desserts, pastries, and petit fours. Return in the evening to sample Polynesian specialties in a relaxed atmosphere. Reservations required for dinner.
Life Aboard
When you travel onboard The Gauguin, you won't spend your days at sea simply biding your time until we arrive at our next destination. On our ship, every day (and night!) brings new and exciting opportunities for entertainment and enrichment.
Les Gauguins & Les Gauguines
On every voyage of The Gauguin, we're accompanied by our own troupe of Tahitian hosts and entertainers that bring the spirit of Polynesia to life. Enjoy a retelling of ancestral legends through dance, delight in traditional songs onboard and on our private motu, and learn local handicrafts during hands-on demonstrations. Couples celebrating a honeymoon or anniversary can even attend a Polynesian blessing ceremony.
Le Grand Salon
When the sun goes down at sea, Le Grand Salon comes alive with spectacular performances. Every night brings something different, whether it's Les Gauguins & Les Gauguines performing ote'a - a complex line dance accompanied by drums - live piano music, Broadway show tunes, or foot-tapping rock music. Return to our main lounge during the day for a game of table tennis or lecture from a roster of anthropologists, archeologists, and marine biologists, as well as visiting experts on other popular topics.
La Palette
This versatile lounge offers morning snacks, serves as the backdrop for special events, hosts Polynesian activities led by Les Gauguines, and is the perfect place to grab a nightcap and dance under the stars to live music.
Le Casino and Piano Bar
Try your luck in Le Casino, which features slot machines, blackjack, and roulette, and is open every evening, except where prohibited by port regulations. We also invite you to grab a drink at the Piano Bar and enjoy nightly piano entertainment.
Pool and Pool Bar
Soak in the South Pacific sunshine with a day spent lounging by our outdoor pool. Cool off in the refreshing water, grab a cocktail from the adjacent Pool Bar, or take in the scenery from a comfortable lounge chair.
Local Entertainment
In addition to Les Gauguins & Les Gauguines, on every voyage we invite local performers onboard to entertain you. Don't miss an evening spent with local group Mamas and Papas, whose dynamic performance of Polynesian dance and singing is a perennial guest favorite.
Crew Show
The crew members onboard The Gauguin are certainly experts at providing first-class service to our guests, but they also boast many other talents that we're proud to showcase in our crew show. Every voyage offers something different, but you're always guaranteed a night of amazing entertainment, much of which showcases the unique cultures of our crew members' home countries.
La Boutique
Just steps from your stateroom, find the perfect memento of your South Pacific cruise, like genuine Tahitian black pearl jewelry exclusively designed for Paul Gauguin Cruises, Tahitian vanilla, local arts and handicrafts, souvenir apparel, and more. It's also the perfect place to pick up any necessary sundries or toiletries, like swimwear, beach attire, sunscreen, and batteries.
Photo Shop
Ensure that your vacation memories last a lifetime with services from Paul Gauguin Cruises' Photo Shop. A dedicated photographer accompanies us throughout our cruise, giving you the opportunity to take home professional photos of significant events, like embarkation, the Captain's Welcome Reception and Tahitian Night. Family portraits and casual photo-ops are also available. The Photo Shop is also stocked with everything you need to take your own photos, including single-use cameras, digital cameras, photo accessories, and media cards.
Special Arrangements
Cocktail Parties (Minimum 10 Guests)
A. 1 hour of open bar (premium brand liquors, house wine, and house Champagne) served with dry snacks
B. 1 hour of open bar (premium brand liquors, house wine, and house Champagne) served with a selection of 6 cold canapes
C. 1 hour of open bar (premium brand liquors, house wine, and house Champagne) served with 6 cold canapes and 4 hot hors d�oeuvres
D. 1 hour wine and cheese-tasting session with The Gauguin�s selection of domestic and imported wines, assorted international cheeses, and fruit display
E. Selection of 3 regular hot hors d�oeuvres and 3 cold canapes (food only)
F. Cordials
G. Caviar only
Prices available upon request.
Note: Cocktail party times and locations will be confirmed on an individual basis. To eliminate conflict, parties are subject to passenger loads, number of groups on board, and our approval.
Meeting Services & Coffee Breaks
Coffee (regular or decaf), tea, and Danish pastries are complimentary for morning breaks during meetings and special functions. Finger sandwiches, cookies, coffee (regular or decaf), tea, and soda are complimentary for afternoon meeting breaks and special functions. A nominal charge for meeting room set-up and for service will be assessed as follows:
Up to 50 guests: $50 service charge
51 to 100 guests: $100 service charge
101 to 200 guests: $150 service charge
201+ guests: $200 service charge
Note: Limited photocopying service is available at $0.25 per copy.
Important Notes
All group services and requests must be approved at least 60 days in advance. Payments must be received 30 days prior to sailing, to guarantee the function. Special Group and Charter Menus are available, upon request. We regret to inform you that Paul Gauguin Cruises does not allow or permit the wearing of Name Badges.
Swimming & Watersports
Dive into the blue and come face to face with a colorful parade of marine life, from magnificent parrot fish and clownfish to stately sea turtles. Your first dive into crystal-clear waters will spoil you for anything else under the sun R10; or the seven seas.
Watersports are a highlight of the Polynesian experience, and the m/s Paul Gauguin is constructed to take full advantage of these irresistible waters, with accessibility to ports and adventures that other ships can't offer. The ship's small footprint enables it to navigate lagoons that larger ships would never dare to enter. And our retractable, on board Watersports Marina brings you down to sea level, where you can hop aboard a windsurfer, launch a kayak, master a paddleboard, or embark on our Zodiac for optional diving adventures.
Even if you've never been diving, you can take advantage of our onboard SCUBA lessons. The m/s Paul Gauguin is the only luxury ship in French Polynesia to offer PADI certification on board for novice divers. We offer classes at all levels, from snorkeling to advanced SCUBA diving techniques, supervised by our own staff of PADI dive masters. For the convenience of our guests, all necessary equipment, including an air compressor to refill SCUBA tanks, is on board.
Please note: Swimming and snorkeling from the watersports marina is prohibited. Watersports marinas are subject to weather conditions and local restrictions.
Staff & Services
Personal service is a hallmark of the m/s Paul Gauguin. You'll know it as soon as you step aboard. With one crew member for every 1.5 guests, you're assured the highest level of personal attention. The staff's rigorous dedication to your comfort and well-being is gracefully expressed in a hundred thoughtful acts. The way the maitre d' remembers your name or which table you prefer. In the extra personal attention the dive master gives every participant in the ship's onboard SCUBA program. And in the warmth of your stewardess' smile as she places a perfect ripe mango in your fruit basket. Yet, surprisingly, the staff expects no gratuities. Gratuities are included in your cruise fare.
24-Hour Room Service
a special 24-hour room service menu is available. During normal dining hours, you may also order from L'Etoile Restaurant and enjoy dinner in your suite.
Butler Service
The ultimate and absolutely indispensable perk of Butler service awaits guests in category B accommodations and higher. For those who desire an enhanced level of individualized service, our Butler service is a must. Butlers can assist your arrival on board by unpacking your luggage, arranging pressing for your clothing, and making reservations at the Spa or for dinner in La Veranda or Le Grill. If would like to spend more time ashore, a Butler can arrange for a private car or make lunch reservations at a local restaurant. Celebrating a special occasion? Have the Butler arrange a private cocktail party with canapes. Our highly-skilled Butlers do it all R10; quickly, competently, and without fuss.
Laundry, Dry Cleaning, and Pressing Services
Onboard laundry and valet services, including pressing and dry cleaning, are available with charge and may be arranged through your stewardess for same-day service. All guests entitled to Butler service will receive complimentary pressing of any items that will be worn the first evening on board. These items will be collected by the Butler at the guest's earliest convenience.
Communications
Guests can make telephone calls directly from their suite or stateroom. Fax messages are received and sent through the reception desk. Internet and Wireless access is complimentary for guests in the Owner's and Grand suites aboard the m/s Paul Gauguin, and available for a nominal fee for all other guests of both ships. All guests aboard the m/s Paul Gauguin are welcome to use the printer and computers in the ship's Internet Cafe, compliments of Paul Gauguin Cruises.
Medical Services
The Medical Center is designed to provide medical care for temporary illnesses and accidents. The ship's licensed and registered doctor and nurse are on 24-hour call for professional and emergency services, which are available at customary charges.
Family Programs
Stewards of Nature
A Program for Kids and Families, in Partnership with the Wildlife Conservation Society (WCS)
The South Pacific is more than a dream destination: it's also a fascinating getaway where families can share activities, strengthen bonds, and create memories to last a lifetime.
Paul Gauguin Cruises is offering a new way for families to explore this breathtaking part of the world together through a joint program with the Wildlife Conservation Society. During the summer months and holiday season, the Stewards of Nature program, is offered aboard the m/s Paul Gauguin and invites guests to discover and value nature through hands-on, interactive learning for children and teens ages 7-17, as well as family members.
Every day of the voyage, there is a combination of naturalist-led island and/or beach excursions, science activities, crafts, games, and other adventures. Depending on their itinerary, your children might learn about underwater life during a snorkeling excursion, observe the ocean or the stars through binoculars or an onboard telescope, learn about different kinds of marine life and their habitats, reinforce their discoveries by playing Ocean Trivia or Oceanopoly, go on a dolphin-watching expedition, swim with sharks and rays, play beach games and race hermit crabs, enjoy a dance performance or a movie and a pizza party on board, and learn what it means to be a Steward of Nature.
While all of the activities on the itinerary are included for children and teens through the nominal fee that reserves the program for them, family members are invited and encouraged to participate in most activities for the additional cost of the shore excursions.
Please note: The Stewards of Nature program must be reserved at the time of booking. Stewards of Nature Naturalists Meredith Kintzing and Anna Pedersen.
Dates Available:
Tahiti & the Society Islands - 7 Nights: December 22, 2018, December 29, 2018 ($349)
About the Wildlife Conservation Society
WCS has been committed to saving wildlife and wild places for over 120 years. In addition to being among the world's leading science and conservation organizations, WCS manages the largest urban network of zoological parks, educating and inspiring millions of people at the New York Zoos and Aquarium.
Onboard Experts
Mark Eddowes, Onboard Lecturer
For nine years, Mark Eddowes has captivated guests of the m/s Paul Gauguin with fascinating tales of French Polynesia's storied past, sharing his wealth of knowledge through lectures that that range from "The Cult of the Tiki" and "The Ancient Culture of the Marquesas Islands" to the real story of the Mutiny on the Bounty. These lectures are often cited as a highlight by our guests.
Much of his knowledge was gained in the field, literally uncovering the past on archaeological digs. Originally from New Zealand, Mark first visited Tahiti in 1988 as a graduate student in anthropology at the University of Auckland. He had been invited to join a dig on the island's north shore, and once that four-year project ended, he stayed on, directing the excavations of ancient sites throughout the Society, Austral, and Marquesas Islands and making significant contributions to the knowledge of southern Polynesia's early settlements.
Today, Mark is an acknowledged authority and researcher in the field of Polynesian anthropology, having been honored in 2006 with the title of National Geographic expert in the archeology of French Polynesia and the Cook Islands. He has also been invited to head an archaeological research committee charged with classifying the historical temple site of Taputapuatea on Raiatea island as a UNESCO World Heritage Site. And he is currently working with UNESCO to class the marae (temples) of the Cook Islands - including those of Aitutaki, where he is currently directing a research project - as similar heritage sites.
When he's not traveling the South Seas conducting his research, Mark makes his home in Huahine, the "Garden Island" of the Society Islands chain. Fluent in French and Tahitian, as well as his native English, Mark joins us on most voyages of The Gauguin, so it's likely that you, too, will have the opportunity to attend an entertaining and enlightening lecture given by this renowned archaeologist and scholar - and gifted raconteur.
Mark Eddowes will be on the following sailings:
October 20, 2018
November 3, 2018
November 10, 2018
November 17, 2018
November 28, 2018
Ship Features
All oceanview accommodations, nearly 70% with balconies, measuring from 200 to 500 sq. ft., including balcony
Butler service, in-suite bar setup, and iPod music system in suite/stateroom category B and above
A choice of three dining venues
Complimentary 24-hour room service, including selections from L'Etoile restaurant during regular dining hours
Complimentary beverages, including select wines and spirits, beer, soft drinks, bottled water, and hot beverages
Onboard gratuities for room stewards, dining and bar staff
Full entertainment program including Polynesian artists, musical entertainment, a pianist, and a professionally operated casino with slot machines
Spa and beauty services, including hand and foot treatments, body treatments, facials, and spa programs
Optional PADI SCUBA diving program and certification
Watersports marina for complimentary kayaking, windsurfing, and paddleboarding, and Zodiacs for optional dive excursions
A day at Motu Mahana, Paul Gauguin Cruises' exclusive retreat off the coast of Taha'a, featuring Polynesian hospitality, snorkeling, watersports, bar service, and a delicious feast
Access to the luxury cruise line's exclusive, private beach located on a motu off the coast of Bora Bora, which offers an idyllic white-sand beach, excellent snorkeling, and bar service on French Polynesia itineraries
Fully-equipped fitness center
Presentations by local naturalists and a variety of special guests
Spacious outdoor decks and pool
La Boutique duty-free shop
Book and DVD library (open 24 hours a day)
Wi-Fi hot spots throughout the ship to cover most suites/staterooms and common areas, as well as guest-accessible computers, available 24 hours a day for a nominal fee
Laundry and dry cleaning services available
Certified medical services
166 suites/staterooms on Decks 3-8, including one wheelchair-accessible stateroom and select staterooms that can accommodate three guests
Capacity: 332 guests
Crew: 217/International
Crew-to-Guest Ratio: 1:1.5, one of the highest of any luxury cruise ship
Officers: European and International
Registry: Bahamas
Shipyard: Chantiers de l'Atlantique (Saint Nazaire, France)
Length: 504 feet
Width: 72 feet
Draft: 17.1 feet
Tonnage: 19,200 tons
Maximum speed: 18 knots
Passenger decks: 7
Call letters: C6TH9
Propulsion System: Diesel electric
Please note: Stateroom images and features are samples only. Actual furniture, fixtures, colors, configurations and window/porthole views may vary.
A Veranda Suite
Description
4 Suites available: Tahiti Suite (709), Pont Avent Suite (710), Atuona Suite (711), Arles Suite (712). Veranda Suites can accommodate up to 3 guests. Veranda Suite 7004 has a queen-size bed. Includes complimentary Butler Service. Note: Loveseat beds are slightly smaller than a standard twin bed.
B Veranda Stateroom
Description
B Veranda Stateroom Includes complimentary Butler Service. B Veranda Staterooms can accommodate a third guest by adding a sofa bed. Stateroom 7003 features a shower stall with no tub and also a queen-size bed. Note: Loveseat beds are slightly smaller than a standard twin bed.
C Balcony Stateroom
Description
C Balcony Stateroom Balcony Staterooms ending in 6 or 8 can accommodate a third guest in a loveseat convertible (except 7006 & 766). Stateroom 7006 features a very small bathroom with shower only. Staterooms 763-767 vary in size and feature shower stall with no tub. Note: Loveseat beds are slightly smaller than a standard twin bed.
D Balcony Stateroom
Description
D Balcony Stateroom Balcony Staterooms ending in 6 or 8 can accommodate a third guest in a loveseat convertible. Note: Loveseat beds are slightly smaller than a standard twin bed.
E Window Stateroom
Description
E Window Stateroom Stateroom: with picture window Wheelchair-accessible stateroom (415) Window Staterooms ending in 5, 6, or 8 (except 415) can accommodate a third guest in a loveseat convertible. Note: Loveseat beds are slightly smaller than a standard twin bed.
F Porthole Stateroom
Description
F Porthole Staterooms are the same as E but feature two portholes instead of a window.
Grand Suite
Description
GS Grand Suite Two suites available: Paul Gauguin Suite (801), Flora Tristan Suite (802). Grand Suites can accommodate up to 3 guests. Grand Suites includes Butler service and complimentary internet. Note: Loveseat beds are slightly smaller than a standard twin bed.
Owner's Suite 7002
Description
Owner's Suite 7002 has a queen-size bed, and can accommodate up to 3 guests. Bathroom includes a full-size tub and dressing area. Owner's Suite includes Butler service and complimentary internet. Note: Loveseat beds are slightly smaller than a standard twin bed.
Owner's Suite 701
Description
Owner's Suite 701 can accommodate up to 3 guests. Bathroom includes a separate shower and a dressing area. Owner's Suite includes Butler service and complimentary internet. Note: Loveseat beds are slightly smaller than a standard twin bed.
Please note: Stateroom images and features are samples only. Actual furniture, fixtures, colors, configurations and window/porthole views may vary.
Please select the deck plan you will like to see below
Deck Nine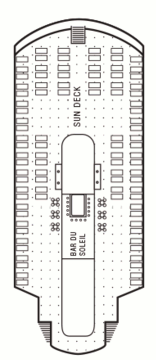 Vendor
Paul Gauguin Cruises
General
Owned by Pacific Beachcomber S.C., the leader in French Polynesia luxury destination resorts, Paul Gauguin Cruises operates the award-winning luxury cruise ship the m/s Paul Gauguin, which provides an exceptional cruise experience tailored to the unparalleled wonders of Tahiti, the South Pacific, and Fiji.
Launched in 1998, the renowned, 5+ star m/s Paul Gauguin was built specifically to sail the waters of Tahiti, French Polynesia, and the South Pacific and is the longest continually operating year-round luxury cruise ship in this enchanting destination. No other luxury ship in history has offered this level of single-destination focus and expertise on a year-round basis for such an extended period of time.
With more than 25 years of experience in the French Polynesian tourism market, Pacific Beachcomber is the country's largest luxury hotel and cruise operator in the region. In addition to The Gauguin, Pacific Beachcomber operates seven award-winning hotels and is committed towards achieving environmental and social sustainability. Most recently, Pacific Beachcomber opened The Brando, an award-winning luxury eco-resort on the private island of Tetiaroa, on July 1, 2014.
Questions? Contact
Cruises-N-More today!
We are happy to provide a toll free phone number into our office from locations within the USA and Canada. Additionally, we have toll free numbers for the convenience of those residents of Australia and the United Kingdom.
USA + Canada

Speak to a travel Specialist

800.733.2048

(toll free)

Fax: 407.771.0077

Australia

Speak to a travel Specialist

800.076.002

(toll free)

Fax: 407.771.0077

United Kingdom

Speak to a travel Specialist

0.808.189.1292

(toll free)

Fax: 407.771.0077