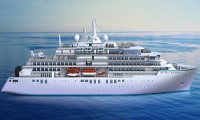 Crystal Endeavor
Overview
Elegant. Sensational. Boundless. Every deck aboard Crystal Endeavor is a destination unto itself, waiting to be explored. Wander the vessel and you'll discover lavish public spaces, a two-story glass-enclosed solarium, five Michelin-level restaurants, a fleet of expedition toys, a full-service spa, and elegant suites that perfectly contrast with the remote and wild landscapes on the horizon.
Dining
Bold. Innovative. Unexpected. Every meal aboard Crystal Endeavor tempts the senses into an unmatched world of culinary excellence. Crystal's award-winning chefs craft Michelin-level cuisine with passionate perfection, inviting guests to awaken their inner gourmand. With all-inclusive dining and open seating in every venue, expert wine sommeliers and an endless pour of acclaimed vintages and premium spirits, each meal is an extraordinary adventure, leaving you utterly curious for the next.
Umi Uma & Sushi Bar
Ingenuity radiates in every morsel at the critically-acclaimed Umi Uma & Sushi Bar, one of Chef Nobu Matsuhisa's only sea-going restaurants - all found exclusively aboard Crystal Cruises. Delve into Nobu's celebrated sushi, sashimi and Japanese-Peruvian dishes, each a statement in unmatched culinary expertise.
Waterside
Dine at your leisure and enjoy open seating in the yacht's elegant main dining venue. Featuring Michelin-inspired cuisine crafted by Crystal's acclaimed culinary team, Waterside showcases exceptional menus of classic favorites served alongside a selection of modern specialties.
Marketplace
Within the yacht's two-story solarium, enjoy lavish culinary presentations for breakfast and lunch daily. Here amidst a dramatic, ever-changing backdrop of wilderness and wonder, savor fresh and creative dishes of continental and regionally-inspired favorites.
Prego
Rustic elegance meets a contemporary edge at Prego. Dine in a lively, sophisticated atmosphere, serving world-class Northern Italian flair with a Mediterranean twist. The venue also hosts Crystal's signature Vintage Room, a one-of-a-kind culinary experience featuring some of the rarest wines in the world.
Bistro Endeavor
This European-style coffee bar and cafe will give your day of rugged adventure a bright, refined start. Discover simple, but delicious full-service breakfast and lunch menus, as well as freshly brewed espresso and teas throughout the day.
The Pantry & Room Service
Enjoy 24-hour access to The Pantry, a self-service venue offering specialty coffees, teas, bottled waters, wines and non-alcoholic beverages. For cravings at any hour, indulge in 24-hour room service, featuring menu items from the main dining venue, Waterside. Order and enjoy whenever desired, anywhere on board.
Entertainment
Palm Court
With panoramic views of the surrounding splendor, Palm Court is a Crystal favorite. By day, the hub features traditional Afternoon Tea and hosts enrichment presentations and lectures. By night, this dynamic venue invites guests to enjoy cocktails, dancing and entertainment.
Year Built: 2020
Guest Capacity: 200
Length: 539 ft.
Passenger Decks: 8
Crew to Guest Ratio: 1:1
Crew: 206
Registered Tonnage: 20,000
Polar Class: PC6
Please note: Stateroom images and features are samples only. Actual furniture, fixtures, colors, configurations and window/porthole views may vary.
Expedition Penthouse
Description
Delve into elevated standards of luxury and space. Located port side, the Expedition Penthouse is a statement of ingenuity, featuring a separate bedroom, formal living and dining areas, guest half-bath, expansive verandah, high-tech amenities, and a butler's prep station, offering guests a plush respite from a day of epic adventure.
Owner's Suite
Description
The Owner's Suite defies all expectations, inviting guests to indulge in plush comforts and pristine amenities. This two-bedroom suite is located starboard, featuring magnificent living and dining areas, the finest dressed king-size beds, and the most spacious of all onboard verandahs.
Penthouse Suite
Description
Surround yourself in lavish comfort in the midst of extreme adventure. Each Penthouse Suite features an elegantly appointed living space, plush king-size beds, dual sink vanities, and a private verandah to indulge in the ever-changing dramatic vistas of your voyage.
Deluxe Suite
Description
Elegance abounds in these intimate yet generous accommodations. Each Deluxe Suite is appointed with a king-size bed piled high with plush linens, a well-appointed sitting/dining area, private verandah, high-tech amenities, ample closet space, and ultra-luxury touches designed to help you relax and renew from adventurous exploits ashore.
Please note: Stateroom images and features are samples only. Actual furniture, fixtures, colors, configurations and window/porthole views may vary.
Please select the deck plan you will like to see below
Sunset

General
The All-Inclusive Crystal Experience® is a heady combination of indulgent services and enriching discovery. Since our debut in 1990, we have been elevating and redefining the traditional notions of luxury cruising with innovative excellence, exquisitely designed ships, bold itineraries, customized destination immersion, and the highest standards of personalized service at sea and on land.
A proven leader in evolving the guest experience to stay ahead of global luxury travel trends, we were the first cruise line to partner with celebrity chefs - our Silk Road and Sushi Bar alternative dining venues are the only sea-going restaurants in Nobu Matsuhisa''s worldwide empire; the first to debut a Computer University@Sea with personal e-mail and Internet services; the first to launch a now critically-acclaimed Wine & Food Festival; and the soon-to-be first luxury line to transit the Northwest Passage in 2016 and offer four distinct World Cruise options in 2018.
From launching the interactive Creative Learning Institute® with complimentary courses tailored to a guest''s own personal enrichment, to pushing the boundaries of gastronomic discovery with a cutting-edge new Modern Cuisine menu, we are continually adding new programs and features to our award-winning ships.
We are thrilled that you are considering travel with us, and we welcome the opportunity to explore the world with you.
Questions? Contact
Cruises-N-More today!
We are happy to provide a toll free phone number into our office from locations within the USA and Canada. Additionally, we have toll free numbers for the convenience of those residents of Australia and the United Kingdom.
USA + Canada

Speak to a travel Specialist

800.733.2048

(toll free)

Fax: 407.771.0077

Australia

Speak to a travel Specialist

800.076.002

(toll free)

Fax: 407.771.0077

United Kingdom

Speak to a travel Specialist

0.808.189.1292

(toll free)

Fax: 407.771.0077