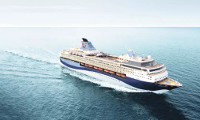 Marella Explorer 2
Overview
Marella Explorer 2 is the sister ship to Marella Explorer, so you can expect some similar qualities, like a range of restaurants, a Champneys Spa and Indigo - a chic bar-club-casino space. But there's one big difference between them - Marella Explorer 2's reserved for adults..
Dining
Surf & Turf Steakhouse
This place does what it says on the tin, specialising in all things meat and seafood. The menu stars various cuts of steak and you can watch the chef cook yours on the open grill. The interiors are inspired by the meaty menu, as well, with chopping board artwork and leather booth seating. A cover charge applies for dining here.
Kora La
You'll feel like you've switched continents when you dine at this restaurant. Oriental-style lanterns and paintings are paired with a pan-Asian menu of curries and noodle dishes. You'll pay a cover charge to eat here.
The Dining Club
This fine dining restaurant was made for foodies. You'll be treated to high-end cuisine, making it the ideal spot for an extra special evening. There's a charge to dine here.
The Market Place
You can watch the chefs whip up around-the-world dishes at this buffet restaurant. It's stocked with lots of different food stalls, hence its name, The Market Place.
The Mediterranean
On Marella Explorer, this place combines pizza, tapas and Portuguese meat skewers. There'll be a slightly different offering onboard Marella Explorer 2, so watch this space.
More Choices
The 19th Hole
Snack Shack
Latitude 53
Vista
Flutes
Nonna's
The Beach Cove
The Terrace
Bars & Entertainment
Squid & Anchor
This pub at sea is a modern take on a traditional British watering hole. As such, it's got a decent range of draught beers and some outside space. Plus, this place is the home of a live band, quiz nights and a couple of gaming machines.
Broadway Show Lounge
This show lounge is big enough to rival a Broadway theatre. And that's not all it's got going for it. There are brand-new shows on offer, plus it's waiter service, so you can get a drink without missing a thing.
Indigo Casino
If you're feeling lucky, you can try out the slot machines and card tables at the Indigo Casino.
Indigo Club
You'll find the club in the middle of Indigo. It flaunts a dancefloor and a DJ booth, as well as an extra bar.
Movies by Moonlight
You can watch classic and modern films under the stars at this open-air cinema.
Bars and Pubs
Bar at The Mediterranean
Indigo Bar
Atrium bar
Aperitif
The Shack
The 19th Hole
Activities
Champneys Spa
Like at any other Champneys Spa, you can book in for treatments, like facials, body wraps and massages. Plus, there's a beauty salon, a relaxation room, made-for-two suites and treatment cabins with hot tubs. There's also a sauna with floor-to-ceiling windows.
The Veranda
Cocoon chairs and Balinese beds give The Veranda its luxe feel. It's split over two decks, and you can order drinks straight to your lounger.
Broad Street Shops
When the ship's at sea, it's time to hit the shops. The onboard boutiques are stocked with everyday essentials and loads of duty-free products, including perfume, jewellery and souvenirs.
Destination Services
If you want to find out more about our ports of call and excursions, come and chat to our Destination Services team. They've got guides and maps to help you find your way around. And you can book your next cruise with them, too. You'll find them onboard by Reception.
The Coffee Port
If you're in need of a caffeine boost, this place will do the trick. Lavazza coffee and sweet treats are served here - courtesy of our in-house chocolatier. Plus, it's a great people-watching spot, since it overlooks the atrium. Time your visit right, and you can sip your coffee to a soundtrack of live piano music. A small charge applies here.
Reception
Reception is the place to go for any queries, currency exchange and wake-up calls. Plus, it's open around-the-clock.
More Choices
Minigolf
Broadway Show Lounge
Medical Centre
Oceans Gym
Whirlpools
Photo Studio
Indigo Casino
Scoops
Nonna's
Pool
Tonnage:71,545 GRT
Length:265.5 m
Beam:32.2 m
Speed:24.5 knots
Decks:14
Cabins:907
Cruise Passengers:1,814
Crew & Staff:TBC
Registry:Malta
Please select the deck plan you will like to see below
Deck 14

Vendor
TUI Marella Cruises - UK (Ocean)
General
From glistening glaciers to tropical shores, there are so many places to explore with Marella Cruises. We sail to over 120 destinations - there's even the option of stepping straight onboard our cruises from one of our UK homeports. Whether it's modern, All Inclusive cruise holidays you're interested in, or intimate and cosy, we've got the ship to suit. We're always adding to our fleet, so you can expect state-of-the-art facilities like climbing walls and cinemas, along with cruise classics like first-class entertainment and sophisticated dining. And it gets even better. Unlike most cruise lines, we include tipping and service charges in our prices, so you don't have to worry about paying extra. We like to keep things nice and flexible, too. Book a Cruise & Stay holiday, for instance - and your cruise package will include a hotel stay. Take a look around our website to find out more.
Questions? Contact Cruises-N-More today!
We are happy to provide a toll free phone number into our office from locations within the USA and Canada. Additionally, we have toll free numbers for the convenience of those residents of Australia and the United Kingdom.
USA + Canada

Speak to a travel Specialist 800.733.2048 (toll free) Fax: 407.771.0077

Australia

Speak to a travel Specialist 800.076.002 (toll free) Fax: 407.771.0077

United Kingdom

Speak to a travel Specialist 0.808.189.1292 (toll free) Fax: 407.771.0077