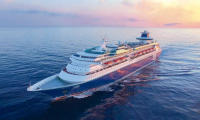 Sovereign
Overview
A world of relaxation and enjoyment
As in a five star hotel, but over the sea. "This is another world" will be the phrase that you will repeat most, both loudly and for yourself, as in WhatsApp messages, since what gives meaning to all the distractions included in the boat is the passenger's pleasure.
In fact, thanks to all the comforts and entertainment that you will enjoy aboard the Sovereign, all the worries and discomforts of everyday life will disappear and the only thing you will have to focus on will be to have fun, travel and relax.
Leisure
Moonlight Disco
From delicious sweets to sophisticated cocktails. All this you can taste in this disco where every night is different and where you will learn the boat dances thanks to our entertainment team.
We Are Trotanautas
No child from 3 to 11 years will get bored thanks to the wide variety of games and recreational activities that are part of the thematic program we have developed for them.
Theater
Every night you will enjoy an incredible and different live show. Magic tricks, jokes, magnificent choreographies and much more to make your stay at the Sovereign an even more unforgettable experience.
Marbella Casino Merkur Mare
Black Jack, American Roulette, Poker and a wide variety of recreational machines for you to have fun and at the same time win fantastic prizes. Also, if this is the first time you come into contact with these games, our friendly and attentive staff will give you free classes.
The Village Shopping Center
A fantastic shopping gallery where you can buy all kinds of gifts, from clothing to glassware or jewelry, to watches and leather goods. Of course, you can only tour our stores while the ship is sailing.
Video Game
Large and small video game enthusiasts will find their paradise in this room, where they can play all kinds of games in any of the multitude of machines that make up this room.
Library
The relaxing rumor of the waves and the sound of turning pages will be the only thing you will hear in our reading room, the perfect place to enjoy an exciting reading.
Bars & Dining
Grill Grill
A charming buffet located outdoors where you can enjoy a variety of hot or cold dishes, perfect for snacks.
Atlantic Restaurant
Without a doubt, privilege number 1 resides in the exquisite dishes and desserts prepared by our chefs.
Coffee and More Meeting
Listen to the music of a live piano while enjoying sophisticated cocktails and dazzling views of the Mediterranean Sea.
Pure Music Life and More
Live music and a bohemian atmosphere. Undoubtedly, the best combination and totally at your disposal in this Pura Vida Musica y Mas Hall.
Market Buffet Delights
All the food you can imagine and much more is what you can find in the spacious Delicias Buffet. In addition, it differs from any other buffet in that all dishes (meat, fish or salads) have been prepared by our chefs.
Mediterranean Restaurant
You can taste delicious dishes, both for breakfast, lunch and dinner.
Bars
Agua Dulce Bar
Mar Sala Bar
Pub
360o WatchTower Rooftop Bar
Wu Fusion Restaurant & Lounge Bar
Spa and Fitness
Solarium
A magnificent space to relax, drink sophisticated cocktails and just worry about sunbathing.
Paddle Tennis Court
The best way to practice paddle tennis is on the track on deck 11, where you will combine sport and dazzling views.
Spa Del Mar. Spa & Wellness
Revitalizing treatments for your body and skin, typical of the most luxurious thermal centers in the world, at your fingertips.
Medical Center
In addition to offering a wide variety of entertainment and luxurious amenities, Pullmantur also cares about your safety. Thus, in this medical center, you can be treated whenever you need it.
Gym
The best facilities for fitness, aerobics and other sports for all those lovers of maintaining fitness.
More Choices
Pool Area
Jacuzzi Area
Jogging Track
Beauty Salon
Flag: La Valeta, Malta
Launching: 1988
Remodeled: 2008
Tonnage: 73.592
Speed: 17 knots
Length: 268 meters
Beam: 36 meters
Draft: 8 meters
Capacity: 2733 passengers
Crew: 820
Staterooms: 1162
Decks: 12
Voltage: 110/220
Language onboard: Spanish
Currency onboard: Euros
Please select the deck plan you will like to see below
Deck Fourteen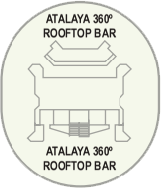 Vendor
Z- OLD - Pullmantur Cruise Line
Questions? Contact Cruises-N-More today!
We are happy to provide a toll free phone number into our office from locations within the USA and Canada. Additionally, we have toll free numbers for the convenience of those residents of Australia and the United Kingdom.
USA + Canada

Speak to a travel Specialist 800.733.2048 (toll free) Fax: 407.771.0077

Australia

Speak to a travel Specialist 800.076.002 (toll free) Fax: 407.771.0077

United Kingdom

Speak to a travel Specialist 0.808.189.1292 (toll free) Fax: 407.771.0077