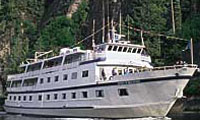 Spirit of Discovery
Overview
The first thing guests notice when stepping into the Discovery Lounge aboard the 84-guest Spirit of Discovery is light, air, and views -- wide picture windows port and starboard, and a wall of floor-to-ceiling windows facing forward. Backing the delightful scene are a bar and library with exquisitely detailed woodworking.
This is one of Cruise West''s most popular vessels. Every category stateroom offers a wide view window, many of which open for you to enjoy fresh breezes. Ample outside deck space and easy access to the extra-roomy bow area are perfect spots to view the sights around you.
NEW! Explorer Class Cabins
Enjoy more upscale comforts with eco-friendly amenities, including ultra-soft bamboo fiber linens and towels, cotton waffle-weave bathrobes, water-conserving Speakman "Easy Jet" adjustable stream shower heads, and hypoallergenic down European duvets.
Think Casual
Our focus is always on the destination, so informality is key. After all, if there's a whale spouting off the bow, dinner will just have to wait, and you don't want to get whale spume on a tux!
When you're on board, you'll spend most of your waking hours in the spacious public areas. Unlike many other ships, on the Spirit of Discovery have open guest access to the bow area, giving you the best views. And of course, all the lounges and dining rooms feature large view windows, as do most of our staterooms.
The Choice is Yours
Count on Us
Each day of your voyage will be different, but some things will be wonderfully consistent. Breakfast, for example, will always s give you delightful options, whether you prefer to sip your morning coffee out on deck or enjoy it at a leisurely pace in the dining room. And dinner is a delight. From soup to dessert, it's homemade and delicious.
Whatever the day brings, you'll be equipped to enjoy it.
Relax in the lounge (by the second evening, you'll treat it like your own living room), rest your elbows on the rail while your search the water for whales.. Join your Exploration Leader for an up-close excursion in our inflatable craft.. Go exploring in charming ports.. Or just put your feet you and relax. We won't let you miss a thing.
We're here to make every aspect of your journey enjoyable.
Our crew has been especially trained to enhance your experience, from our knowledgeable Exploration Leader to the Pastry Chef whose homemade breads and luscious creations grace each meal. And whether you're onboard or on land, gratuities are neither expected nor required.
Our style may be casual, but our service never is. Our only priority is to make this the best trip of your life.
84 guests
166 feet in length
Cruising speed of 13 knots
Registered in United States
All cabins feature private facilities
Bed sizes vary from standard
Please note: Stateroom images and features are samples only. Actual furniture, fixtures, colors, configurations and window/porthole views may vary.
Category A Stateroom
Description
Two single beds and large view window. Cabin 302 has one double bed.
Category AA Stateroom
Description
Two single beds and large view window.
Category BBB Stateroom
Description
One upper berth and one lower berth, and large view window.
Deluxe Stateroom
Description
One queen bed, writing desk, chair, TV monitor/VCR, refrigerator and large view window.
Single
Description
One single bed and large view window. The bathroom is quite compact.
Explorer Class
Description
Two single beds and large private outside viewing window.
Please note: Stateroom images and features are samples only. Actual furniture, fixtures, colors, configurations and window/porthole views may vary.
Please select the deck plan you will like to see below
Main Deck

General
Cruise West Continues Restructuring Efforts
Cruise West a global in small ship explorations, today announced that they continue to work towards a restructuring of the company and its operations. As part of this process, Cruise West has suspended accepting any new bookings.
Cruise West plans to continue to operate its US flag ships and itineraries through October, 2010.
Questions? Contact
Cruises-N-More today!
We are happy to provide a toll free phone number into our office from locations within the USA and Canada. Additionally, we have toll free numbers for the convenience of those residents of Australia and the United Kingdom.
USA + Canada

Speak to a travel Specialist

800.733.2048

(toll free)

Fax: 407.771.0077

Australia

Speak to a travel Specialist

800.076.002

(toll free)

Fax: 407.771.0077

United Kingdom

Speak to a travel Specialist

0.808.189.1292

(toll free)

Fax: 407.771.0077