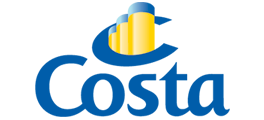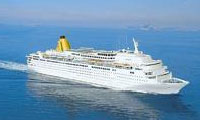 Z - Old - Costa Europa
Ship
Z - Old - Costa Europa
Overview
The sophisticated Costa Europa cruise ship reflects the style and atmosphere of continental Europe, blending rich colors and Old World artistry in a refined style, accentuated by the mystery of Greek myths and legends. Roomy lounges and cozy corners and prestigious works of art create the charm of the Costa Europa cruise ship. A stroll around the nine spacious decks: Hercules, Auriga, Cassiopea, Orion, Perseus, Andromeda, Pegasus, Sirens and Centaurus, guests will find a selection of elegant lounges, cafes and cozy corners, the shopping area, the casino and all the glitter and glamour of nightlife.
Entertainment
As the moon becomes our guide to lead our way into complete enjoyment while we bask in the many entertainment probabilities. Such excitement reminds you exactly what life is all about. You're guarantee a wonderful time while on board Costa's Europa. You'll have the opportunity to get lost in our Lerna Casino and play the many games. If you're looking for a place to unwind on the dance floor your attention will most likely be drawn to the Ladonte Disco.
Orfeo Cinema
Atlante Theater
Medusa Ball Room
Kids Club
Lerna Casino
Ladonte Disco
Dining
Come allow our staff on the Costa Europa to achieve the ultimate tantalization of your taste buds and appetites. Allow us to overwhelm you with aroma, flavor, delight, and perfection. Our divine cuisines and en trees are liable to leave you in a sense of aah. Whether you're the casual diner who desire a comfortable setting, Fine diner who thrives for elegance within dining, or just a fun diner who craves the ultimate laid back atmosphere, we have what you're looking for.
Sirens Restaurant
Ocean Bar
Delo Bar
Golden Apple Bar
Orion Restaurant
Activities
Come join us aboard Costa's Europa and have the cruising experience of a lifetime. This vessel is equipped with plenty of activities to keep cruisers of all ages occupied for the duration of your cruise. Our activity accommodations includes the Nereidi Fitness Center for those who plan on keeping in shape while they're enjoying the cruise, the Venue Beauty Salon for those who would like to find a new look or freshen up the old one, and for the sun bathers there would be the Solarium & Lido Sirens and the Solarium & Lido Andromeda. For those who would like to capture the moment there will be a Photo Shop & Photo Gallery aboard the ship.
Terrace Grill
Solarium & Lido Sirens
Solarium & Lido Andromeda
Nereidi Fitness Center w/Sauna & Massage
Library
Internet Cafe
Argo Lounge
Mid Ship Room
Hercules Square & Shops
Photo Shop & Photo Gallery
Venus Beauty Salon
Shore Excursions
Built: 1986
Completely Refurbished: 2002
Passenger Capacity: 1,488 (Double Occupancy)
Number of Crew: 636
Total Cabins: 753(4 for Handicapped Passengers)
Tonnage: 54,763 tons
Length: 797 feet
Beam: 95 feet
Decks: 12(9 for Guest Use)
Max Speed: 20 knots
Cruising Speed:19 knots
Please note: Stateroom images and features are samples only. Actual furniture, fixtures, colors, configurations and window/porthole views may vary.
Oceanview Stateroom
Description
Oceanview; 2 lower beds, most convert to queen.
Oceanview, Deluxe
Description
Oceanview; 2 lower beds convert to queen
Oceanview Single
Description
Oceanview; single
Gran Suite with Balcony
Description
Grand Suite; Oceanview; 2 lower beds convert to queen, sitting area
Inside Stateroom
Description
Inside; 2 lower beds, some convert to queen
Suite
Description
Suite; Oceanview; 2 lower beds convert to queen, sitting area
Please note: Stateroom images and features are samples only. Actual furniture, fixtures, colors, configurations and window/porthole views may vary.
Please select the deck plan you will like to see below
Centaurus Deck

Vendor
Costa Cruise Lines
General
A 70-year journey
Almost 70 years since our first voyage with the Anna C on 31 March 1948, from Genoa to Buenos Aires, we are still going and still travelling the world's seas today with the Italian flag proudly flying above our heads. We have lots of stories to tell: one for each of our ships. The Franca C, for example, was the first ship in the world to be built for cruises. The year was 1957. Over time the designs, sizes and decor of the ships have changed, and balconies have been introduced to the majority of cabins; the tastes and requirements of passengers have evolved but our values have remained unchanged, our commitment to our customers.
Costa Crociere: horizons that know no bounds
For 70 years Costa Crociere has embodied Italian style and hospitality. We have always made it our business to introduce our guests to the world's most stunning places, giving them the chance to explore different destinations and discover the different cultures in the five continents with complete respect for their identities. As the only cruise company flying the Italian flag, it is our responsibility and duty to act as an ambassador for Italian values in the world and to represent our country at our ports of call. At Costa responsible innovation is a key factor when we design the ships of the future and develop the onboard experience, a process carried out with maximum attention to detail in order to offer a holiday geared towards discovering local cultures and experiencing them as responsible travellers.
This is why we have plotted a course that regards innovation and sustainable development as the foundation for our future. For this reason, we strive to minimizes the impact we generate on the destinations we visit with you.
Questions? Contact
Cruises-N-More today!
We are happy to provide a toll free phone number into our office from locations within the USA and Canada. Additionally, we have toll free numbers for the convenience of those residents of Australia and the United Kingdom.
USA + Canada

Speak to a travel Specialist

800.733.2048

(toll free)

Fax: 407.771.0077

Australia

Speak to a travel Specialist

800.076.002

(toll free)

Fax: 407.771.0077

United Kingdom

Speak to a travel Specialist

0.808.189.1292

(toll free)

Fax: 407.771.0077