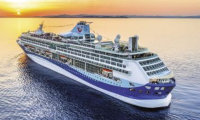 Marella Discovery
Overview
Marella Discovery is one of our biggest ships, with highlights like an outdoor cinema, a rock climbing wall, a mini-golf course, five-storey atrium and an indoor pool. You can expect all the Marella Cruises trademarks, like a fantastic dining scene, a show lounge to rival the West End, and smart, contemporary interiors. And the best bit - on Marella Discovery, everyone goes All Inclusive. This means your drinks, including prosecco and cider, plus meals in five restaurants and most onboard activities will all be part of the deal.
Activities
Live Casino
The stylish casino is open until late, and features blackjack tables, and fruit machines. If you're a beginner, ask the croupiers about getting some lessons in. You've also got the entertainment - and the bar - in the Live Room to accompany you while you're having a flutter.
Broad Street Shops
The onboard boutiques are open when the ship's at sea, and stock a great range of duty-free products.
Gamerzone
This fun, interactive space has games consoles for adults and children.
Breakout Challenge
In this real-life room escape game, you'll need to work as a team to find clues and solve puzzles before the time runs out. A charge applies for this activity.
Hideout
A made-for-teens hangout spot conveniently located by the games area. There's even a karaoke booth where you can record your own CD.
Kids' Club
This colourful children's den is free, and it gives 3 to 11-year-olds the chance to meet new friends. Little ones can look forward to arts and crafts, games, movie nights, and trips up to the bridge to say hello to the captain.
Minigolf
Take the whole family to the minigolf green - it's got nine holes and widescreen sea views.
More Choices
Memories Gallery
Destination Services
Whirlpools
Reception
Deck Bar
Medical Centre
Baby Centre
The Navigate App
Babytainment
Pure Portrait Studio
Main Pool
Spa & Fitness
Oceans Gym
Enjoy a workout in the fleet's largest gym, before working up an even bigger sweat in the sauna.
Oceans Spa and Beauty Salon
If you fancy getting glammed up for the weekly dress to impress night, pop in to the salon for a manicure or hair up-do. Alternatively, spoil yourself in the spa - it's got a string of treatment cabins where you can indulge in a full body massage or a rejuvenating facial.
Jogging track
Burn some calories on a run around deck 10.
The Veranda
This just-for-adults sunbathing area is located at the back of the ship, so you can relax with views of the horizon.
The Wall
Brave the heights of the rock-climbing wall, and get a bird's-eye view of the ship and the ocean.
Indoor Pool
A brand-new feature for Marella Cruises, Marella Discovery's indoor pool comes with a huge glass canopy roof, and rows of comfortable loungers.
Dining
Surf & Turf Steakhouse
As its name suggests, this specialty restaurant majors in the likes of marbled steaks and meaty lobster tails. You've also got other meat and fish options, as well as plenty to satisfy a vegetarian palate. You'll pay a cover charge to eat dinner here.
Sushi Bar
Spicy tuna rolls, salmon sashimi and seabass nigiri are all on the menu at this sushi bar, which is tucked inside Kora La. Plus, you can wash it down with beers from all over Asia - think Tiger, Cobra and Singha. There's a charge to dine here, and you'll need to book, too.
Kora La
Our signature pan-Asian speciality restaurant makes an appearance onboard TUI Discovery. You'll find dishes created by renowned chef Ian Pengelley such as his duck and watermelon salad. The menu covers off south and east Asia, featuring dishes like Indian spiced king prawns, and Indonesian beef rendang curry. A cover charge applies for dining here, and you'll need to make a reservation.
Islands
Big buffet spreads are laid out in this restaurant, with show-cooking stations on-hand to offer things like breakfast omelettes, and carvery roasts in the evening. You can grab snacks in between meals, too.
Snack Shack
Festival food stalls and iconic British beach huts provided the inspiration for this grab 'n' go eatery. This means you can expect to pick up things like bacon butties for breakfast, and sweet chilli chicken wings, mezze salads and focaccia sandwiches in the afternoon.
47O
Marella Discovery's main eatery is a big, stylish venue, finished in the colours of the sand and the sea. Daytime meals here come with a side-order of sea views, thanks to floor-to-ceiling windows, and a grand double staircase leads up to a separate eatery.
Gallery 47O
You'll find this trendy Italian restaurant on the second floor of the ship's main dining room, 47O. It's a laid-back place, where bookings aren't necessary, and its designer look features a colour scheme inspired by the sunset.
The Glass House
This place has a split personality, but for all the right reasons. By day, it deals in deli-style light bites and freshly-squeezed juices. Come sundown, the venue turns into casual restaurant with a tapas-style menu. Plus, you can cook your own steaks on hot stones, for an extra charge.
Squid & Anchor
If you're craving a taste of home, our pub at sea should do the trick. It's a modern take on a typical British boozer and, as such you can expect entertainment like pub quizzes and game shows.
The Coffee Port
This contemporary coffeehouse is perfect for enjoying a Lavazza cappuccino and a slice of cake while you recharge your batteries. You'll also find a library here. Please note, The Coffee Port is not part of the All Inclusive package.
Bars and Entertainment
Broadway Show Lounge
Plush seating and an 800-plus capacity give the ship's main entertainment venue professional credentials. We have 11 unique new shows, including Beatz Interactive, a hi-tech dance piece featuring LED-lit costumes.
Bar Eleven
A position on the highest point on deck 11 - where the bar gets its name from - means that drinks in this lounge come with the ship's best sea views. It's a contemporary cocktail bar by evening, transforming into a late-night disco as the hours pass.
Movies by Moonlight
In a Marella Cruises first, we're premiering an open air cinema. It means you can watch classic movies and the latest box office hits under the stars. Blankets, popcorn, and hot chocolate will be available from the nearby bar
Deck Bar
This sociable spot ticks the box for cold drinks in between dips.
Live Casino
The stylish casino is open until late, and features blackjack tables, and fruit machines. If you're a beginner, ask the croupiers about getting some lessons in. You've also got the entertainment - and the bar - in the Live Room to accompany you while you're having a flutter.
Babytainment
Activity-wise, we've not forgotten about our youngest guests. While children head to the kids' club, you can take your under-threes along to our new Babytainment classes for parents and babies. Each free session brings something different to the table, from nursery rhyme sing-alongs to baby ballet. They're educational, too - take Sing & Sign, for instance, where little ones can follow in the footsteps of Mr Tumble from CBeebies, by learning Makaton sign language. The sessions take place all year round, with at least one per day.
Live Room
Marella Discovery's flagship watering hole is our most spacious and modern yet, and houses our biggest selection of on-tap beers. Expect the atmosphere to build pace as the hours draw in - evenings might start with the sounds of our signature yellow piano, and end with the sounds of dancefloor classics.
Atrium Bar
Grab a seat - and a glass of bubbles - at this classy bar, and you'll have a great view of the entertainment in the atrium.
Tonnage: 69,130 GRT
Length: 264 m
Beam(width): 32m
Speed: 24 Knots
Decks: 11
Cabins: 918
Cruise Passengers:1,830
Crew and Staff: 753
Registry: Malta
Please select the deck plan you will like to see below
Deck Eleven

Vendor
TUI Marella Cruises - UK (Ocean)
General
From glistening glaciers to tropical shores, there are so many places to explore with Marella Cruises. We sail to over 120 destinations - there's even the option of stepping straight onboard our cruises from one of our UK homeports. Whether it's modern, All Inclusive cruise holidays you're interested in, or intimate and cosy, we've got the ship to suit. We're always adding to our fleet, so you can expect state-of-the-art facilities like climbing walls and cinemas, along with cruise classics like first-class entertainment and sophisticated dining. And it gets even better. Unlike most cruise lines, we include tipping and service charges in our prices, so you don't have to worry about paying extra. We like to keep things nice and flexible, too. Book a Cruise & Stay holiday, for instance - and your cruise package will include a hotel stay. Take a look around our website to find out more.
Questions? Contact Cruises-N-More today!
We are happy to provide a toll free phone number into our office from locations within the USA and Canada. Additionally, we have toll free numbers for the convenience of those residents of Australia and the United Kingdom.
USA + Canada

Speak to a travel Specialist 800.733.2048 (toll free) Fax: 407.771.0077

Australia

Speak to a travel Specialist 800.076.002 (toll free) Fax: 407.771.0077

United Kingdom

Speak to a travel Specialist 0.808.189.1292 (toll free) Fax: 407.771.0077